10/08/2008


Toxicity and Safety -4 week multiple-dose toxicity in primates
• 4 week multiple-dose toxicity of P-MAPA in monkeys
The Cebus apella model
The Cebidae family embraces around 37 species of New World primates, among them the Capuchin monkey (Cebus apella)
Since these animals are susceptible to many infections that affect also the human beings, they are often used as biological models in the study of diseases such as Tuberculosis and Chagas.
The Cebus apella has also been used in nutritional experiments, specifically in those related to saturated fatty acids metabolism, cholesterol and triglycerids blood levels as well as blood platelet aggregation
Animals
Male of Capuchin monkeys (Cebus apella) were used in this study, divided in 4 groups as follows :
• Groups
1) Control group - 3 animals as control (using as standard for the anaesthetic procedure used and they received a saline solution by the same administration route than the animals treated with P-MAPA

2) Low dose group - 3 animals for low dose ( 5 mg/kg

3)Medium dose group - 3 animals for medium dose (10 mg/kg)

4) Hight dose group - 4 animals for high dose (30 mg/kg) - Figure 1
Figure 1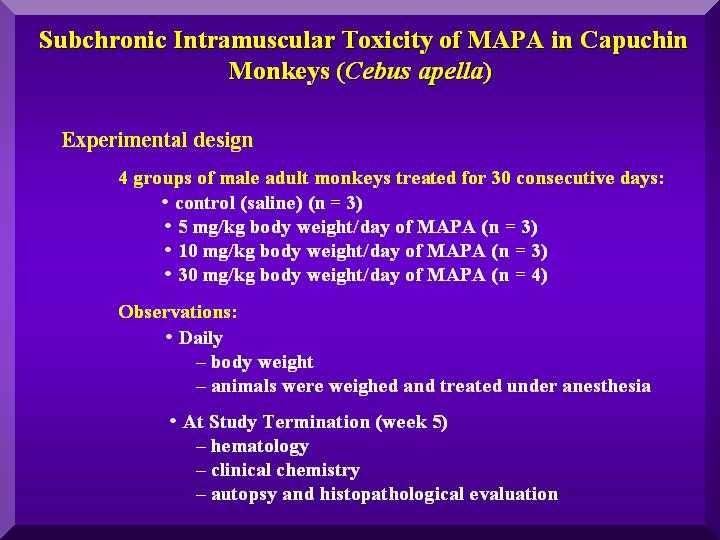 Protocol
P-M.A.P.A.. suspended in 0.9% sterile saline solution for injection, given daily (i.m.) to the animals for 30 days, after being anaesthetized with ether.
Body weight was recorded daily.
From the medium and high dose groups, one animal was left alive in order to collect blood at 30 and 60 days after the last P-MAPA administration for determining the reversibility of any hematological or biochemical changes
All the animals after administration of P-MAPA were feeded with a proteic-caloric balanced diet, consisting of fruits, vegetables and eggs, complemented with Purina ration and ad libidum water.
At the 31st day of treatment, the animals were anaesthetized, weighted and 10 ml of blood was collected for hematological analyses (hematocrite, erythrocytes, hemoglobin, average corpuscular volume, and leukogram) and biochemical analyses (glucose, triglycerides, cholesterol, phosphorous, calcium, total proteins and fractions, SGOT, SGPT, LDH, and GGT).
Target organs and others structures were dissected from the animals for anatomopathological studies.
Results
Physiological parameters - body weigh
Figure 2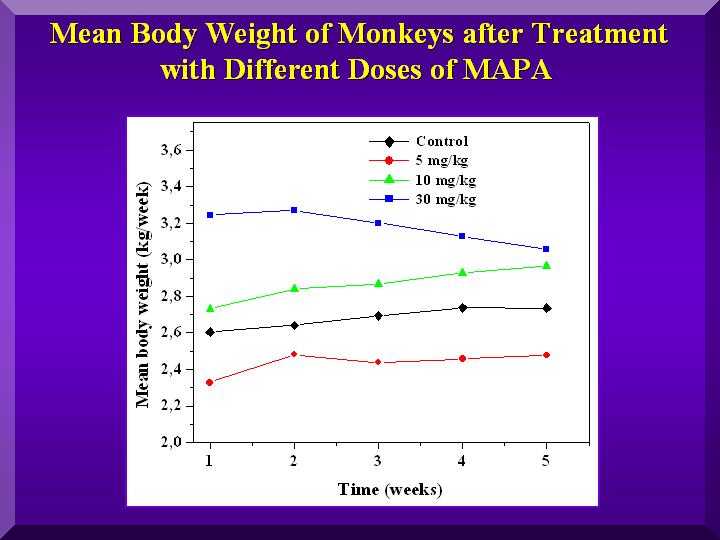 Animals regardless of the which group they belonged, exhibited a progressive weight gain ( Figure 2).
The monkeys treated with the medium dose of P-MAPA presented the greatest weight gain.
Hematological Parameters
Red blood cells were not affected by P-MAPA in any group.
Also, no different coagulation time compared to the testimony or control was observed.
Total leukocytes increased in the P-MAPA treated animals, mainly by increase of lymphocytes and neutrophils.
This effect was dose dependent( Figure 3).
Fgure 3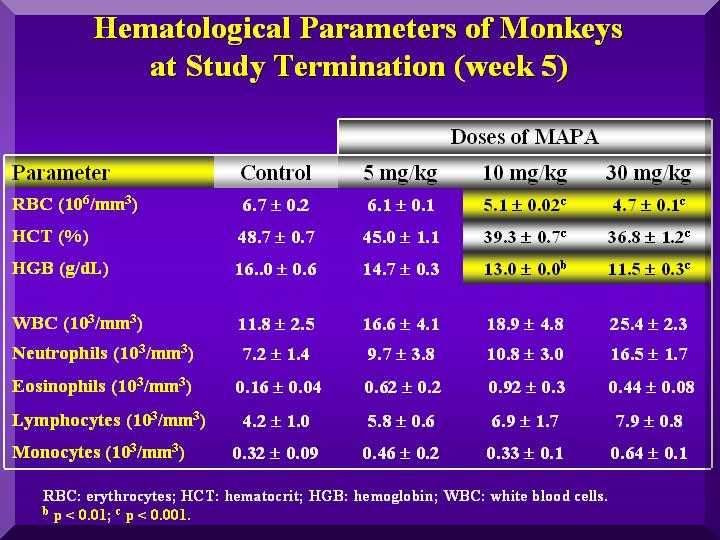 Biochemical Parameters
Energetic Metabolism
Small changes in the glucose levels in all the animals were observed, but within the normal values, suggesting no hypoglycemic clinical conditions. A large decrease in cholesterol and triglycerides in all the groups was observed compared to the control animals (Figure 5).
Hepatic Metabolism
SGOT (Serum glutamic-oxaloacetic transaminase): Increased significantly compared to the control in the low dose, but in less intensity in the other groups ( Figure 4).
SGPT (Serum Glutamate Pyruvate Transaminase): Slightly increased compared to the controls in the low dose group and a decrease in the other groups. ( Figure 4).
GGT ( Gamma-glutamyltransferase): Higher levels than in the control group in the low and medium dose. High dose group presented an even higher increase. ( Figure 4).
LDH (Lactic Acid Dehydrogenase ): All three groups presented a dose dependent increased value compared to the group ( Figure 4).
Figure 4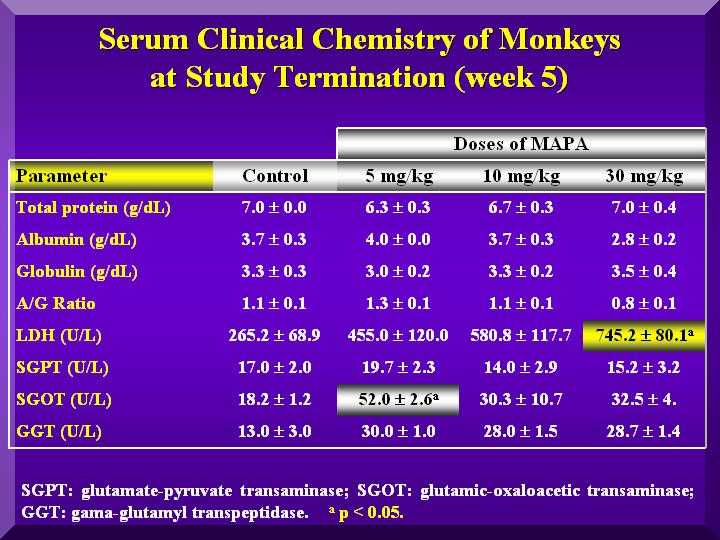 Bone Metabolism
Slightly higher calcium levels were found only in the treated group with a high dose of P-MAPA. Phosphorous levels were high in all three doses. (Figure 5).
Figure 5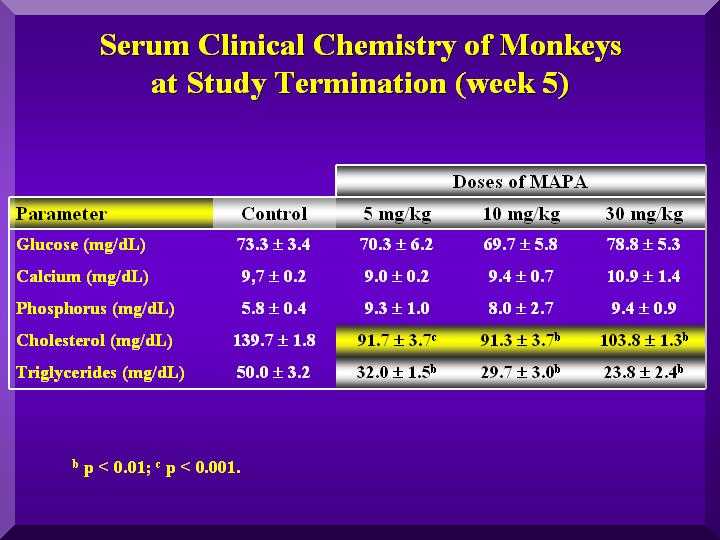 Anatomopathology
Muscular Tissue from the Site of Application
Due to the nature of the compound and the daily volume used, a local myositis was found in animals with high dose.
No infection signals in the local was found. Microscopic observations were indicative that this process was a reversible one.
Hematopoietic System
Microscopic signals are indicative of activation of target organs and do not constitute signs of pathological alterations
Liver
In the high dose group, only one exhibited three hypercellular focus (around 20 cells) constituted by macrophages, monocytes and lymphocytes, associated to a degenerative process of the lobular center of the organ.
The hepatic tissue exhibited hepatocytes with granular and clear cytoplasm, however, there were hepatocytes in the lobular center veins presenting hydropic degeneration.
In the medium dose group, the hepatic tissues were normal with a mild alteration, suggesting a focal destructive process.
In the low dose group, the hepatic tissues were absolute by normal.
Then, the anatomopathological data from the hepatic tissues corroborate those obtained by the blood biochemical examination, mainly related to the high dose group.
Although biochemical and anatomopathological data in the high and medium dose groups were found to be reversible and compatible with limited hepatic damage, the results suggest the necessity of hepatic function monitoring, in cases of continuos application of P-MAPA with patients with clinic or laboratorial history of hepatic dysfunction.
Kidney
In the high dose group, the kidney was completely normal. Only in one case, a mild hypercellular focus was found, constituted by lymphocytes and plasmocytes in the cortical region. This is presumably is related to a very limited process, which did not reveal any effect on the organ. The same animals had mild focal interstitial nephritis probably without clinical importance.
In the medium dose group, only four hypercellular focuses in the cortical region were found. These focuses were formed by lymphocytes, plasmocytes and macrophages, with interstitial distribution, with atrophy of few glomerules.
The diagnostic is suggestive of interstitial, mild, focal nephritis and lymphoplasmacytic, associated to atrophy of glomerules. There was no evidences of organic dysfunction of the organ.
In the low dose animals, the kidneys were normal. In one case a discrete hypercellular focus was found.
Therefore, although the anatomopathological studies on kidneys showed that the alterations found were not significative of kidney dysfunction, renal monitoring during the use of P-MAPA in humans is advisable.
Lung
According to ethical criteria, for the animals were submitted to daily inhalation of ether before the administration of P-MAPA and histological samples of lung tissues were examined.
This procedure was aimed at detecting injuries at the tissue level as an immunological response, to the P-MAPA administration.
Only one animal in the high dose group exhibited evidences of mineralized material in three points of the analyzed sample without any indication of inflammatory reaction.
Other animal presented nematoid fragments within the alveoli. Animals with medium and low doses were completely normal.
Therefore, no evidence of pulmonary injuries due to P-MAPA administration was found.
Conclusion
• In general, although alterations were found in the biochemical analyses in blood in the treated animals, these alterations are reversible, since animals studied after 30 and 60 days after interruption of the P-MAPA administration presented normal.
• Hepatic tissue analyses showed alterations that were not considered clinically relevant and did not show a tendency to constitute a chronic process.